DIGIVOICE-350.16DSP2

DIGIVOICE-350.16DSP2
The newly developed professional active
DSP Beam Steering Line Arrays DIGIVOICE-350.16DSP2

(16 channel DSP)
have been specially designed for
sound transmission in acoustically challenging areas with complex acoustics and long reverberation times
, such as Churches, cathedrals, conference venues, conference rooms, museums, airports, railway stations, halls but also for multimedia applications.
TECHNICAL DETAILS:
16 channel DSP2
,
L=3,4m
, 
16 x 20W/PWM
,
SPL40m@95dB
, 
330 Watt sinus
power, equipped with 
27 x 3.5" neodymium chassis
and 
4 x HF magnetostatic transducer.
NEW:

 Now with 1 x controllable and 1 x fixed beam for near field.


NOW MORE COMPACT: With the new models, the housing width has been reduced from 102 mm to a slim 95 mm
.
The active modular 16-channel DSP-based speaker systems (dsp steerable line arrays) cover a
sound range of 40 mrt @ 95dB
and have
330 watts of sinusoidal power (16 x 20 W digital AMPs)
.
The arrays are equipped with
27 x 3.5 "neodymium chassis and 4 x RF magnetostatic transducers
.
The active DIGIVOICE sound columns consist of
software-controlled speakers
. Each of the
16 DSP channels
has its own
Class D power amplifier
(16 x 20W, total 330W sinus power).
The
independent DSP channels
allow individual, very precise speaker control and thereby optimal adaptation to the individual acoustic room conditions. Through a sophisticated mathematical calculation of the optimal parameters, the integrated DSP technology produces
precise directional radiation and highly accurate directivity
. 
Even volume
in the areas of @ 95 dB "NEAR FIELD" and "WIDE FIELD" as well as
excellent speech intelligibility in the entire PA range
are just some of the advantages of the DIGIVOICE series.
State-of-the-art
Beam Steering Technology
allows real-time stepless
electronic controllability of the sound opening angle and tilt angle in the vertical direction
, completely
without mechanical alignment
of the loudspeaker systems (inclination).
The systems allow a
specific adjustment of the inclination (+ / -45 degrees)
and the
vertical radiation angle (4 to 10 degrees)
. The parameter adjustment automatically takes over the system through the digital control of the DSP.
Thanks to the electronic inclinability, the line arrays can be mounted flat against the wall and thus
merge inconspicuously with the room architecture
.
The equipment of the digitally controllable active loudspeaker systems also includes an
RJ45 socket (network input).

Optionally, a DSP Interface
is available for connection to a media controller and as a computer interface for operating the control software. The supplied software optimally adapts the acoustic characteristics to the local conditions.Important:
Wherever no network cables (CAT-5) may be laid for networking the DIGIVOICE system, the DIGIVOICE DSP Beam Steering Line Arrays can be connected directly to old, existing 100V lines, to the internal 100V audio IN input. After programming and measuring the system with the PC, the network cables and the programming interface may be removed again.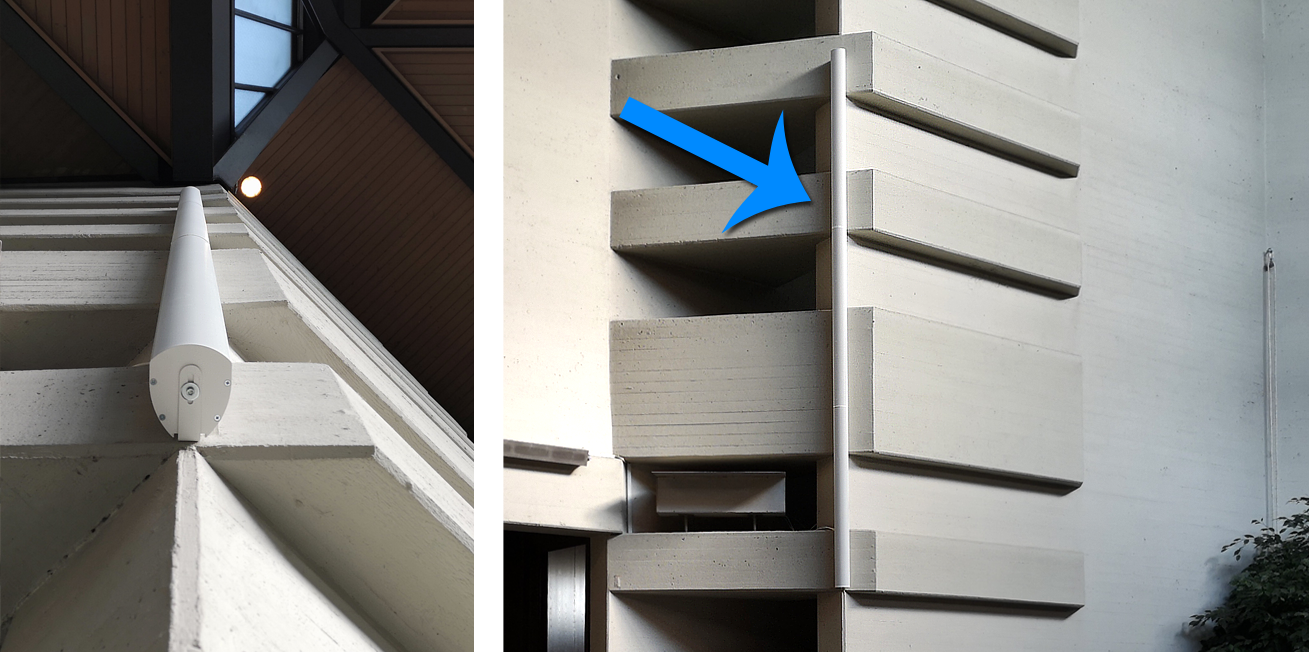 Fig.: Application example DIGIVOICE-350.16DSP2 DSP Beam Steering Line Array

Specials
16 channel DSP2
16 x 20W / PWM
SPL40m @ 95dB
L = 3.4 m
Modularly built
NEW: Now with 1 x controllable and 1 x fixed beam for near field
BEAM STEERING Technology: Electronic sound steering (electronic control of the vertical beam angle)

Special software for system planning, control and remote monitoring

Tailored sound reinforcement: Optimal and fast adaptation of the systems to local conditions and straightforward readjustment
Sound arrives in high quality, easy to understand and with an optimal level in the audience
Excellent voice and music playback
Even sound coverage throughout the entire sound range
Unobtrusive positioning possible
Minimizing disturbing reflections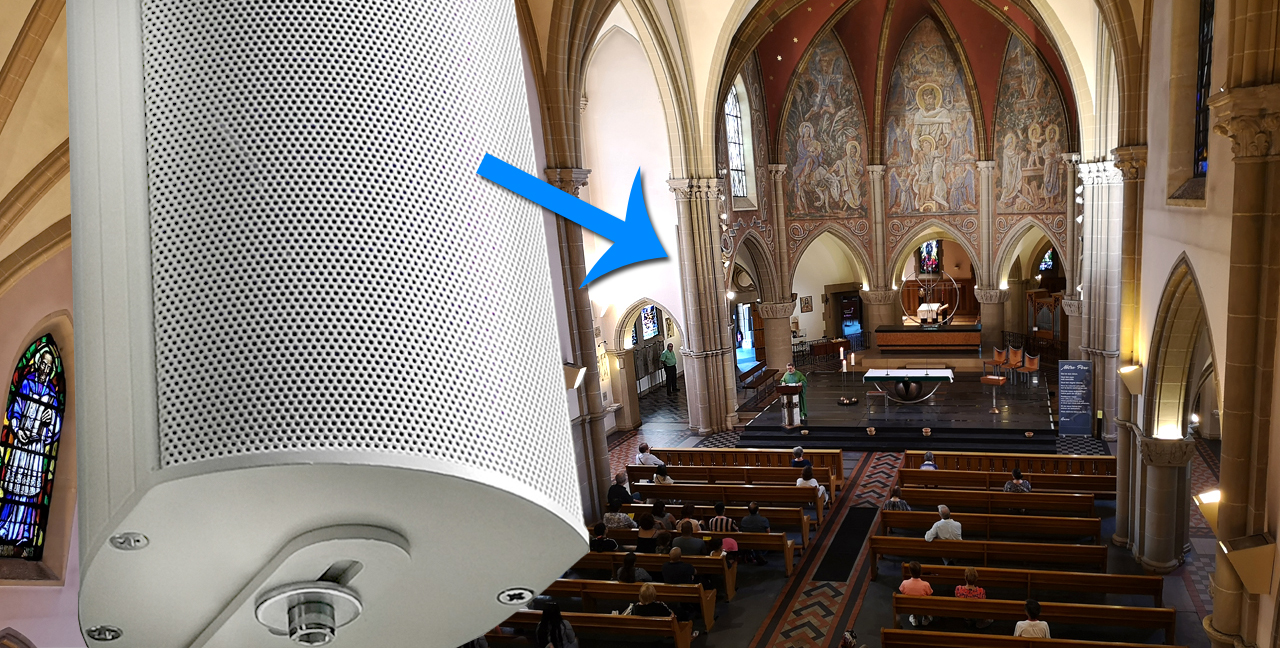 Fig.: Application example DIGIVOICE-350.16DSP2 DSP Beam Steering Line Array
---

Technical Details
 

| | |
| --- | --- |
| Ambient temperature | -5 to + 40C |
| Assembly HF | 4 x magnetostats |
| Beam angle (H) | 130 degrees (-6dB @ 1kHz-8kHz) |
| Beam angle (V) | 4 to 10 degrees [DSP-Beam control] |
| Colour | As desired, RAL |
| Construction | Modular [Part A + B + C] |
| D / A interface | 1xUSB / 2xRJ-45 (RS485) / 1xXLR audio IN |
| Delay (system) | up to 170 meters |
| Dimensions | H-3468 x W-95 x T-113 [mm] |
| DSP channels | 16 channel DSP |
| DSP version | DSP2 |
| Equalization Parametric EQ @ input | 10 x PEG 20Hz-21.0kHz, + -12dB, @ 0.05 oct-3.00 oct |
| Equipment LF / MF | 27 x 3.5" neodymium chassis |
| Focus distance | from 5 to 70 meters |
| Frequency response | 90 Hz-18 kHz |
| Input 1 | 0dB on XLR through interface |
| Input 2 | + 50dB @ 100V signal IN |
| Input Impedance | LINE (15kOhm), 100V (40kOhm) |
| Input Level | -20dB to + 6dB |
| Input limiter | -40dB to + 6dB |
| Interface Digivoice | 2xRJ-45 (RS485) duplex (IN-LINK) |
| Limiter: SLOW / NORMAL / FAST | Yes |
| Mass | 13.8 kg |
| Material | Aluminum powder coated |
| Noise Gate [LEVEL / ATTACK / RELAY] | -90dB / -3dB (300us-5000US) (1 ms 3000ms) |
| Operating mode | active, 16 x Class "D" amplifier |
| PEQ (system) | 10 point PEQ |
| Power consumption @ idle | 30 VA |
| Power consumption at max | 360 VA |
| Power supply | 230VAC / 50Hz / 60Hz |
| Protection circuits | Limiter, short circuit, overheating, overload, softstart, subsonic |
| Signal to Noise Ratio | Can be set in the device configurator @ NOISE GATE / ON |
| Software version | from 2.9.0  |
| Sound system | 40 meters @ 95 dB / SPL @ PINK NOISE |
| SPL "A" rating | 92 dbA @ PINK NOISE @ 40 meters |
| SPL PEAK | 98dB @ 40 meters |
| System networking | Yes |
| System performance | 330 watts sine, 16 x 20 watts digital AMP, s [throttled] |
| THD | better 0.1% |
| Typical range | 60 meters |