MEGZ-7GS LED S

MEGZ-7GS LED S†
The slim
MEGZ-7GS†LED s
design microphone stand system†
consists of a 12 mm thin and 120 cm long standpipe, which opens at the top end into a 6 mm gooseneck, which carries an electret condenser microphone with LED lighting.

The 12 white LEDs are integrated in the upper part of the gooseneck and are fed directly by the phantom power (at least 20VDC, max 52VDC).

With bottom flange (ground sleeve), XLR connector and electret condenser microphone capsule (hypercardioid).

Length gooseneck microphone: 750 mm. Color: black (s).

In the newly developed metal housing of the electret condenser microphone, a filter for effective suppression of pop noises is integrated. The hypercardioid microphone capsule ensures that an acoustically high-quality speech signal is recorded even with a larger speaking distance and in a reverberant environment.

The microphone with a transmission range of 30 Hz to 18 kHz has an extremely straight-line frequency response and a very good reverse attenuation. The power (phantom power) is supplied†via microphone line and fed from the amplifier with 20 - 52 VDC.


By a flexible spring coupling, the microphone capsule is connected to the approximately†75 cm long gooseneck. The only 6 mm thin gooseneck itself†is firmly connected with the main guide pipe by a flexible, but very stable spring coupling
.
Thanks to its
filigree design
, the microphone stand system almost merges with the surroundings at a short distance, so that it is
barely visible in appearance
.
Standpipe and microphone are
powder coated in†black (s) color.

IMPORTANT:

For the LED lighting no separate lines are needed, the power supply is provided with phantom power by microphone line
.†

FURTHER MODELS:

As version†MEGZ

,

t
he design microphone stand system is also available with floor pedestal, 5 m microphone cable and XLR plug (instead of bottom flange and XLR connection).

Specials
Elegant microphone stand system with electrete condenser microphone (hypercardioid)
Version with bottom flange (ground sleeve) and XLR connection
Color: black (s)
Length gooseneck microphone: 750 mm
LED lighting
Very†noble design
Filigree appearance: 12 mm thin and 120 cm long standpipe with 6 mm thin gooseneck
Filter for effective suppression of pop noises
Extremely straight-line frequency response
Very good reverse damping
Phantom power
Very stable flexible spring clutch
Modern design
High quality powder coating
---

Technical Details
†

| | |
| --- | --- |
| Colour | Black |
| Connection | Ground sleeve with XLR coupling |
| Diameter | Main guide tube: 12 mm / head: 16 mm / gooseneck: 6 mm |
| Directivity | Hypercardiod |
| Field transmission factor (S / N) | 16 mV/Pa @ S / N: 66 dB |
| Frequency response | 30 Hz - 18,000 Hz |
| Length | Total: 2100 mm / main guide tube: 1200 mm / gooseneck: 750 mm |
| Lighting | 12 x LED (white light) |
| Max dynamics | 120 dB max. @ 0.5% THD (SPL) |
| Phantom power | 20V to 52VDC |
| Rated impedance | 200 ohms, balanced |
| Weight† | approx. 5 kg |
†
†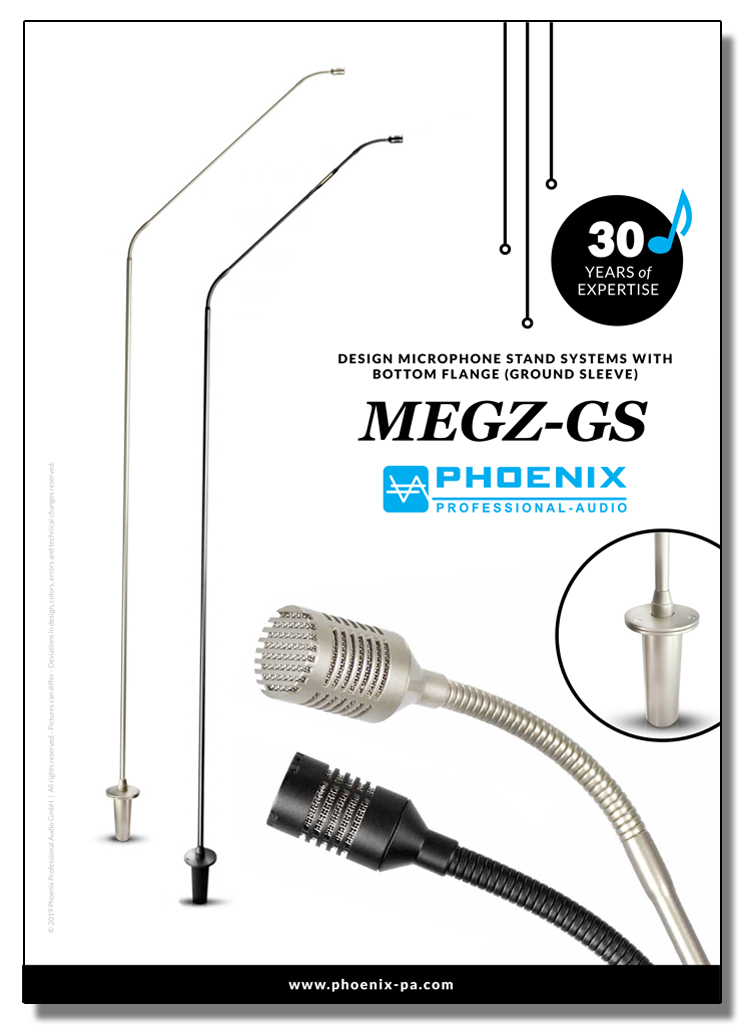 This might interest you too