PV-5D.2-2U
Description

PV-5D.2-2U 
The
POWERVOICE Automatic Mixing Amplifier PV-5D.2-2U
is a power mixer with digital power amplifier (Class-D) and 200 watts sine power (100 V). 2U version.



NEW!

 POWERVOICE-D series now with digital power amp technology:

The POWERVOICE automatic mixing amplifiers from Phoenix Professional Audio have been redesigned and improved especially in their electronics: A new digital power amplifier (Class D) has been installed in the devices - the state of the art technology. The fans in all new amplifier models are temperature controlled and, in contrast to the fans of the previous versions, are very quiet. The new series is also very energy efficient.

The automatic mixing amplifier features 4 microphone line inputs, 3 line inputs, 1 x parametric EQ, feedback limiter (SHIFTER) and 21-point graphic EQ. LINE OUT is transformer balanced to 3-pin jack.

The mixer amplifier is equipped with Automatic System (NOISE-GATE) for the Mic.-Line inputs, switchable phantom power, CUT-filter 100 Hz and DIP-SWITCH Mic. / Line. 


All inputs and the control are equipped with separate
treble and bass controls (LF / HF-EQ)
and with
sensitivity controls (GAIN)
on the back. All these parameters provide
excellent room acoustics
and the parametric EQ guarantees even
more precise room equalization.


The mixer amplifier has an
additional speaker line (100 V) with separate volume control and SOFT-START
for a better speaker protection.
NEW!
In the POWERVOICE-D series, a
2-level mains filter
is installed to
prevent external interference
(such as bells ringing).
Energy saving: 
In full operation, the automatic mixing amplifier has an efficiency of over 90% and thus is particularly energy efficient
.
The devices are constructed as a
table version.
19" mounting (2U) on request, please refer to the technical data for further details.
For
power boost
,
power amplifiers WM-200DT, WM-400DT and WM-600DT
are available.




Specials
NEW: With digital power amp (Class D)

2U table version

4 MIC./LINE inputs (DIP-MIC / LINE)

200 W sine Power
Outputs:

RECORD output (cinch L/R) unbalanced
Output PRE MASTER with GND lift to jack, balanced
Output POST MASTER with GND lift to XLR female, balanced

100V / 70V / 50V / 8-4 ohm outputs
Automatic-System Noise Gate 
LF/HF EQ per input channel and master

1 x Parametric EQ

21 x  Points Graphic EQ

CUT-Filter 100Hz

Feedback Limiter PHASE SHIFTER 

24VDC phantom power
1 x separate speaker zone with regulation (100V line)
---
Technical Details

Technical Details
 

| | |
| --- | --- |
| Automatic mixer | Response threshold of the acoustic switch 30 uV to 0.33 mV adjustable (internal) |
| Dimensions / color | 380mm (W) x 88mm (H) x 300mm (T) 2U table housing, color graphite |
| Equalization Graphic-EQ (21-BAND) | (Hz) 125, 160, 200, 250, 310, 400, 500, 630, 800, (kHz) 1, 1.2, 1.6, 2, 2.5, 3.15, 4, 5, 6.3, 8, 10, 12 / (+ / - 12 dB) |
| Equalization Parametric EQ | x1 & x10 (0dB-20dB, total band width 150Hz to 20kHz) |
| Frequency response | 60 Hz to 20,000 Hz |
| Input low-cut filter | Switchable to each input (channels 1 to 4), DIP-3. |
| Line input (CD / LINE) | Unbalanced -10dB / + 12dB @ 10kOhm |
| Line input (IN 0dB) | Balanced, PRE-MASTER, 0dB @ 10kOhm on jack |
| Line output (OUT 0dB) | Balanced, PRE-MASTER, 0dB @ 10kOhm on jack with GND-LIFT |
| Line output (OUT 0dB) | Balanced, POST-MASTER, 0dB @ 10kOhm on XLR with GND-LIFT |
| Microphone / Line inputs | Automatic, 1 - 4 symm. MIK (- 40dB / -15dB), 1.6kOhm, LINE (-15db / + 5db) 10kOhm, balanced, XLR Neutrik |
| Output | 200 watt sine wave, digital power amplifier Class D |
| Phantom Power | 24 VDC, switchable to each input (channels 1 to 4), DIP-1. |
| Power supply | 230 V AC, 50/60 Hz |
| Protection circuits | On delay, current limit (short circuit), overtemperature protection, inductive load, limiter |
| Shifter (BYPASS) | yes / Shifter shift 3 Hz to 8 Hz / 20 Hz to 20 kHz |
| Signal to Noise Ratio | Total closed 97 dB |
| Sound adjuster inputs and sum | 2-band EQ / LF 100 Hz, HF 10 kHz, (+/- 12 dB) |
| Speaker outputs, floating | 100V - 70V - 50V - 8 and 4 ohms |
| THD | < 0.1% |
| Weight | about 12 kg |
Downloads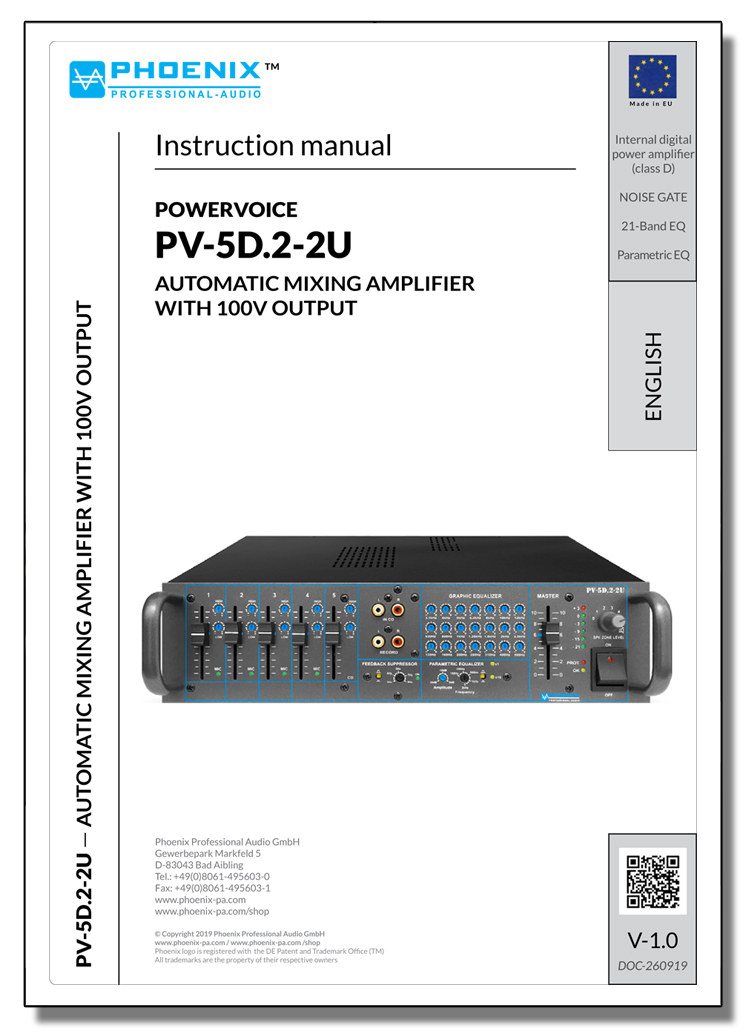 This might interest you too
Other customers have also bought the following items