PA-4300DX

PA-4300DX
NEW! The digital power amplifier PA-4300DX is a 4-channel power amplifier with 4 x 300 / 2x 600 watts of power through power sharing, four independent loudspeaker outputs 100V, IEC 268-3 and a power supply of 230V / AC and 24V DC in a 1U housing.

Total system output power is 1.2 KW - and that with a weight of only 5.9 kg!

Super light transformerless power pack: The low weight makes transport easier for fully stocked 19" cabinets and enables "one-man service" when maintaining the extremely powerful system.

Each power amp module has a separate audio input. Each of these inputs can be assigned its own NF signal.

Each amplifier module has its own switching power supply. In case of failure e.g. of a power amplifier block or of a switched-mode power supply, the remaining amplifier channels are thus not affected by the failure (stand-alone setup).

The power amplifier has floating and transformerless 4 x 100V direct outputs without the need for an output transformer.

Control contacts are located on the rear of the power amplifier: StandBy IN, StandBy THRU, fault indicator output.


The power amplifier has various protection circuits such as short-circuit protection, DC voltage protection, overload protection and protection against RF interference, fan monitoring with automatic shutdown of the system in case of impairment.

In full operation, the power amplifier has an efficiency of over 90% and is therefore particularly energy efficient. An active standby circuit ensures low power consumption.

The power amplifier has a fault output via potential-free contact.

LED displays provide information about signal and operating conditions, such as signal in and protect. 

Four thermo-controlled fans provide effective cooling of the amplifier with unrestricted continuous operation and full performance.

The amplifier has been designed for use in the public address range, e.g. for the sounding of office buildings, shopping centers, supermarkets, bars and public facilities, to operate with a 100V speaker line.

The devices comply with the Electromagnetic Compatibility Directive 89/336/EEC and the Low Voltage Directive 73/23/EEC.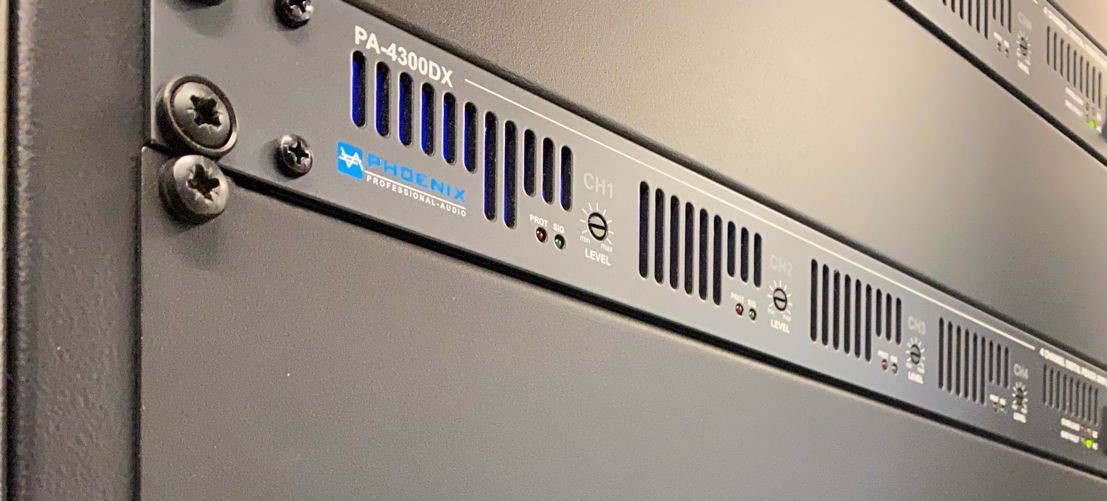 Fig.: Application example

Specials
Digital 100 V ELA power amplifier
4 x 300 / 2 x 600 watts of power through power sharing
Total system output power is 1.2 KW - and that at only 5.9 kg weight!
Low height: 1 U
Weight of only approx. 6 kg
Transformerless without ground fault
Extremely powerful
Thermo-controlled fan
Energy saving through active standby mode
Output contact for error messages
Output power and protection circuits according to IEC 268-3

Efficiency of over 90%

 

in full operation

Short circuit protection, DC voltage protection, overload protection, protection against RF interference, fan monitoring
SLEEP function in emergency operation
LED indicators on front
---

Technical Details
 

| | |
| --- | --- |
| AC Operating Voltage | 190-265V @ 50/60Hz |
| DC Operating Voltage | 21,5-28,5V |
| Dimension | 484 x 330 x 44mm |
| Frequency Response | 65Hz - 20kHz (+/- 3dB) |
| Input Sensitivity/Impedance | 760mV/16k balanced |
| Maimum Power Output | 2 x 600 W (1,2kW), channels 1 and 3 |
| Power Supply | 230VAC/24VDC |
| Protection | High temperature, overload, short cicuit |
| Rated Power Output | 4 x 300W |
| Rated Voltage Output | 100V |
| S/N Ratio | >85dB |
| THD | <0,1% at 1kHz, 1/3 Rated Power |
| Weight | approx. 6 kg |
---