MP-MX-3

MP-MX-3 
Universally applicable
mono preamplifier MP-MX-3

.
Suitable for flush-mount and surface-mount
.
The compact preamplifier is equipped with
2 x microphone and 1 x LINE inputs (mixable)
, built-in
MP3 player (SD card)
, a
USB interface
and
BT receiver
(for direct connection with Bluetooth-enabled devices).
The device can be operated by an included
IR remote control.
With the IR control, all functions can be remotely controlled. You can also switch between the existing SD-CARD interface, BT reception and the USB input.
On the front of the MP-MX-3 preamplifier is the
USB interface for connection to the PC (laptop)
, a
slot for the SD memory card
, a
display
and the
controls (PREV-NEXT, START-STOP, PAUSE and REPEAT buttons).


The preamplifier MP-MX-3 is equipped with high-quality built-in XLR connectors (Neutrik), switchable phantom power 20 V for condenser microphones, LOW / HIGH ON-OFF jumpers per mic input and separate LF/HF sound control for each of the three inputs and master section.

Universal application, easy operation and a high overload resistance characterize the compact preamplifier.
Separate sound control ensures
precise room equalization
and perfect adaptation to room acoustics.
Volume and equalization are controlled by
VOL-LINE and LOW / HIGH-EQ
on the front of the MP-MX-3.
A
mixed operation of the RCA inputs (LINE) and USB/SD ports
is possible.
The output of the MP-MX-3 is transformer balanced with select jumper for 0 dB or +6 dB signal setting and provides high noise immunity at +6 dB setting of the output, so that the signal feedback can be done by JY (ST) Y with 2x2x0.6 line. The device is suitable for flush and surface mounting. Output is transformer balanced (galvanic isolation).

The MP-MX-3 is i.e ideal for gymnastics groups who want to play their MP3 files (on the USB stick, an SD card or a direct connection via Bluetooth-enabled devices) in the gym. Further ideal application areas are i.e. churches, restaurants, multimedia rooms, schools etc.

Another advantage of the MP-MX-3: It has no mechanical wear parts, as it is i.e. in CD players.

The MP-MX-3 preamplifier conforms to the Electromagnetic Compatibility Directive 89/336/EEC and the Low Voltage Directive 73/23/EEC.

NEW: Further model available: MP-MX-3-19 in 19" version (3U).

OPTIONAL ACCESSORIES: Flush mount housing (in-wall) MP-MX-3-UP , MP-MX-3-UP2 and surface mount housing MP-MX-3-AP.

Read more about MP-MX-3 in our NEWS >>.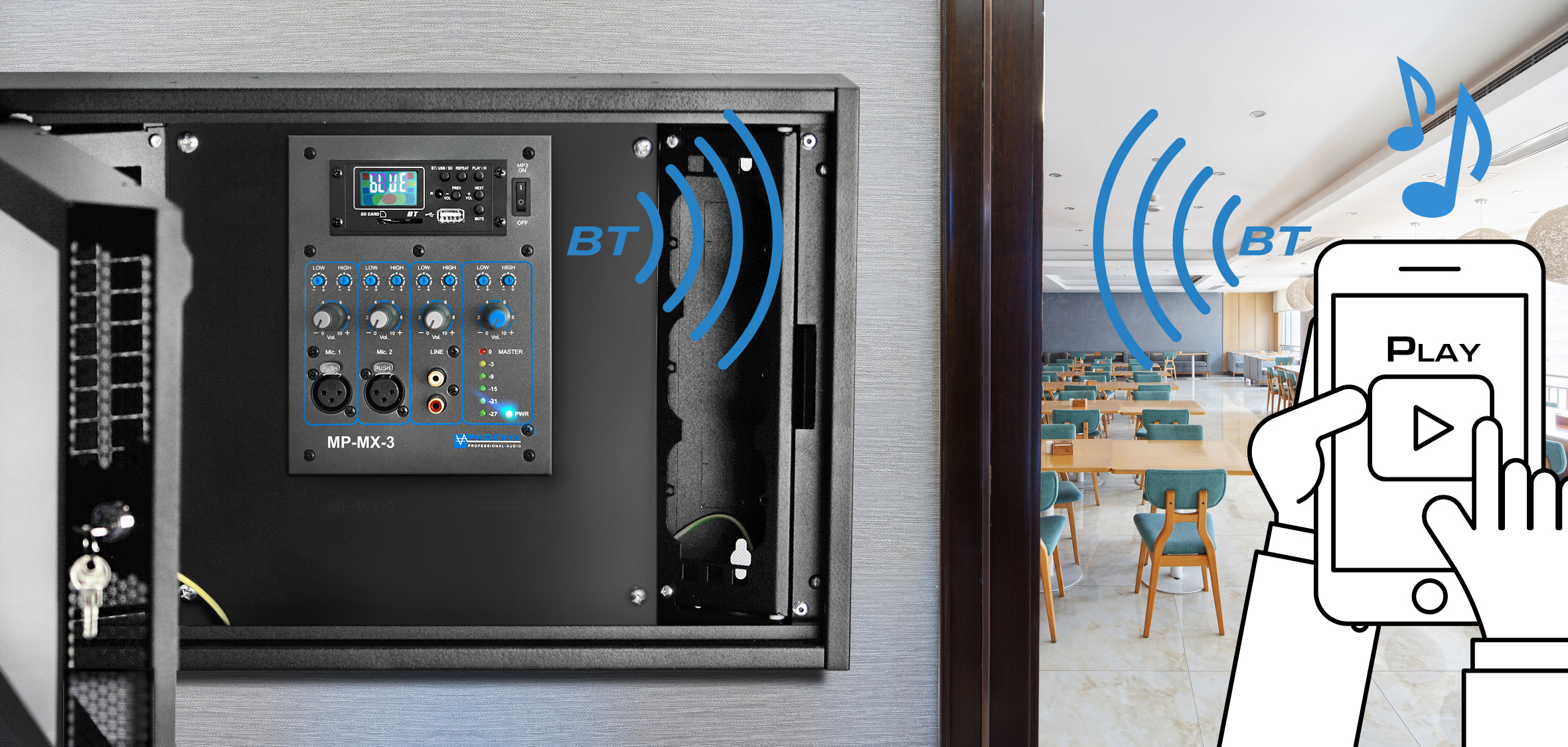 Fig.: Application example with MP-MX-3-AP (separately available)

Specials
2 x MIC & 1 x LINE input (mixable)

BT receiver

MP3 player (SD card)

USB interface for connection to the PC (laptop)

IR remote control

Compliant with directives 89/336/EEC and 73/23/EEC

Universal application

Easiest operation

High overload resistance

Compact dimensions

LED display
Phantom power

VOL-LINE and LOW / HIGH-EQ to control volume and equalization

No mechanical wear parts

Numerous applications, e.g. in sports halls, restaurants, multimedia rooms, churches, schools etc
---

Technical Details
 

| | |
| --- | --- |
| Current consumption max.  | 250 mA |
| Dimensions of device | approx. W-141 x H-182 x D-50 (mm) |
| Dimensions of installation opening | approx. W-130 x H-150 x D-50 (mm) |
| Display | 99 titles Display with max. 9:59:59 time indication |
| EQ | +/- 12 dB |
| Frequency response | 40 Hz - 20,000 Hz |
| Line inputs | unbalanced 1 x line inputs 0 dB, 0.775 V / 10 kOhm, CINCH |
| Mic. inputs | balanced 2 x mic inputs (0.5 - 5 mV / 1 kOhm), XLR standard |
| On board | MP3 player (SD card), USB interface, BT receiver |
| Outputs | 1 x symm. 0 dB or +6 dB |
| Phantom power | 20 V |
| Power supply  | 24 VDC, 1A, 24 W |
| THD | below 0.3% |
| Weight  | approx. 0.5 kg |
This might interest you too
Other customers have also bought the following items