TAB-LED-100

TAB-LED-100 
Thanks to its
shapely, flat housing
, the
surface-mount
hymn board TAB-LED
for churches and municipalities fits harmoniously into the spatial architecture, such as in the sacral room.
Model TAB-LED-100 with
digit height: 100 mm
. Ideal
for distances up to 40 meters.


The song display panels are equipped with high-quality projection SMD LEDs.

Letter display and variable stanza display: upper line e.g. (1234), (A257), (994.2) - bottom line stanza number e.g. (2 + 5 + 8), (1-3 + 8), (3 + 6-12).

The front of the hymn board is provided with a glare-free coating. The song numbers or verses on the board front are illuminated very evenly and thus are excellently readable - even when viewed from the side.

Depending on the model, the series is designed for distances from 5 to approx. 70 meters and offers three different image sizes (numbers 150, 100 and 60 mm, depending on the model).

The brightness control is automatic via the environment sensor in the hymn board. Alternatively, the panel can be dimmed using the optionally available wireless remote control TAB-CONTROL-R.

Song numbers / verses are displayed in white on the illuminated panel. On request we also offer hymn boards with numeric display in the colors red and yellow.

The stable ALU housing of the hymn board is powder-coated in white RAL 9016 matt. On request, the hymn boards can also be supplied in other RAL colors.

A special activation technique (electronic SOFT-START) ensures an extra long life of the LED.


The
power supply
of the TAB-LED hymn board is made by
230 VAC. Operation with 110 VAC possible on request
.
Each song panel has
built-in lightning protection
. 
Optional accessories
:
As an accessory to the hymn boards, the
manual wall-mounted swivel bracket TAB-WS-M
and the
automatic wall-mounted swivel bracket TAB-WS-E
with
electric drive and wireless remote control
are optionally available.
The
separately available
wireless remote control TAB-CONTROL-R
lets you easily control the hymn board wirelessly. The display (2-line) of the wireless remote control
displays numbers large and very legible
and has a
continuously adjustable automatic switch-off
(the remaining expiry time is shown in the display).
There are
50 memory slots available
. The power supply of the control panel is provided by
2 built-in NiMH batteries (AA 1.2 V)
. The battery level is shown on the display in percent. A
mains charger
is included. 
The remote control works wirelessly via a
built-in radio transmitter module 868 MHz, with a range of approx. 300 m
. 
For purposes of wireless connection between the hymn board and wireless remote control, the 
wireless receiver TAB-DF1
is incorporated in the shymn board TAB-LED. The wireless receiver is
sold separately
.  
Optionally
, the TAB-LED hymn boards are also available for flush mounting with corresponding flush 
flush mounting frame TAB-UP
.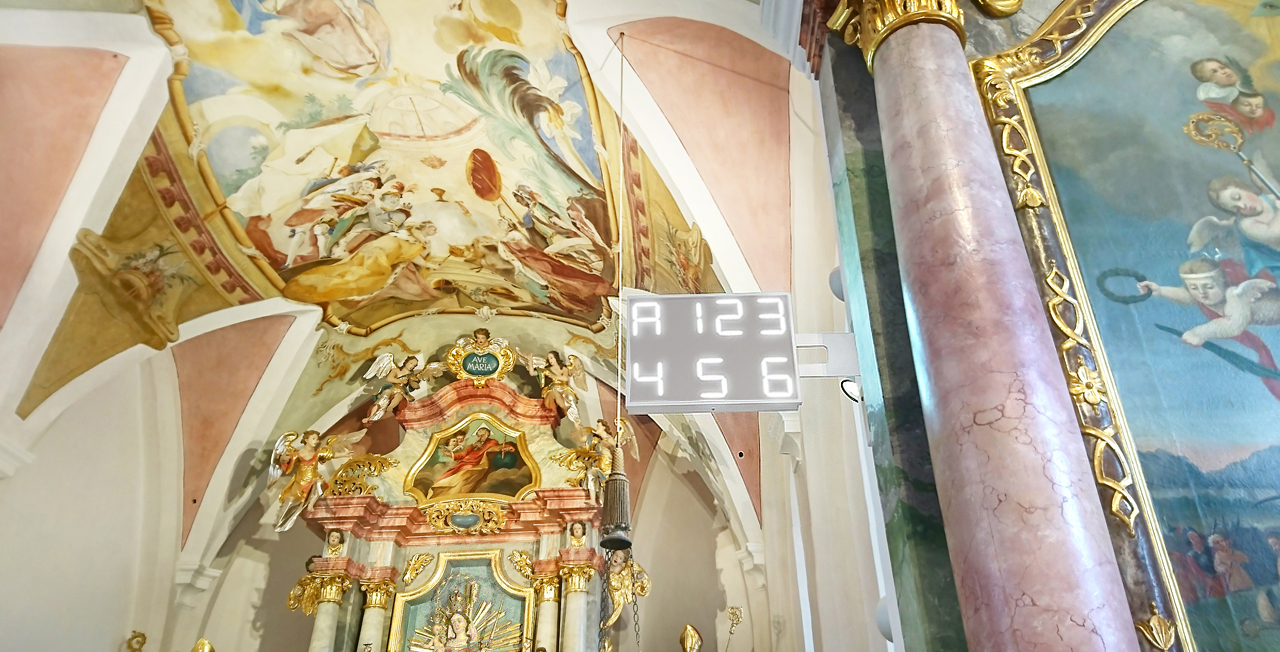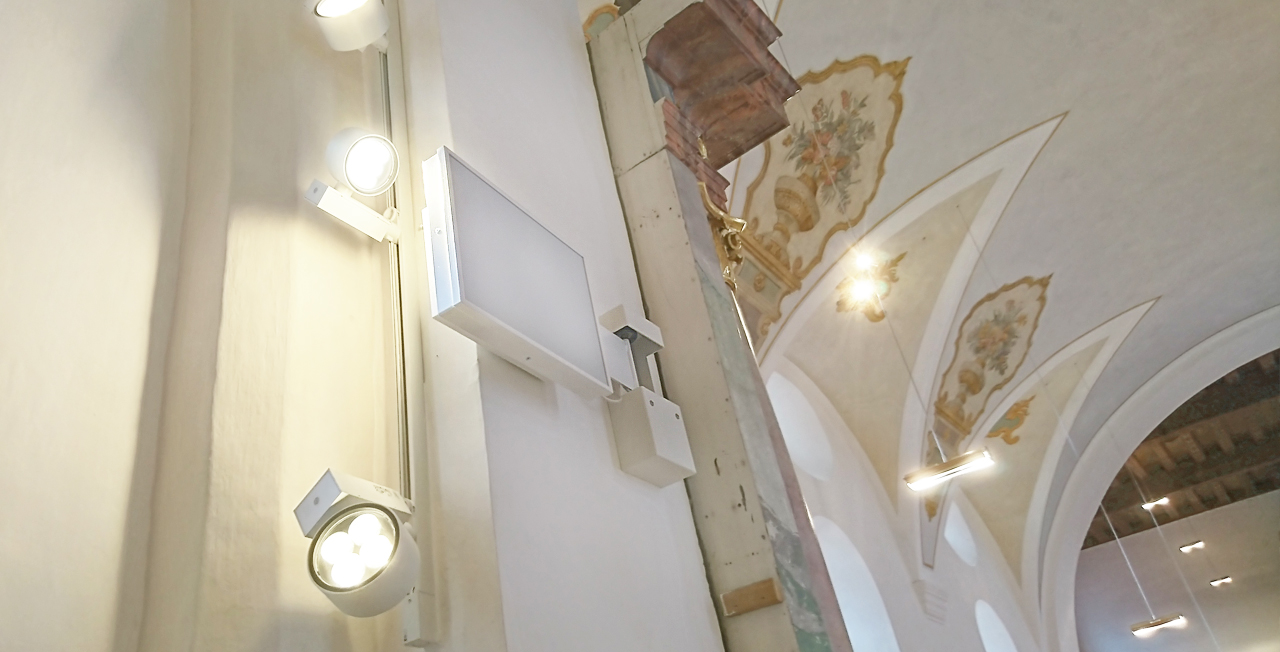 Fig.: TAB-LED series - Application example with electric wall swivel holder TAB-WS-E (sold separately).

Specials
Digit height: 100 mm
Distance: to about 40 m
11 digits
Letter display and variable stanza display
Very flat panel
Energy-saving LED technology
Optimal readability even from larger distances and lateral top view
Sharp display of songs & verses
Simple brightness control
Integrated lightning protection
Stable ALU housing


---

Technical Details
 

Dimensions (surface mounting)
H-400 mm x W-300 mm x L-40 mm
Dimensions (flush mounting)
H-470mm x W-360 mm x L-3 mm (covers the flush-mounted housing)
Weight 
5 kg 
Distance
up to 40 m
Power Supply
230 VAC.
Operation with 110 VAC possible on request.
Height of numbers  
100 mm