K4-60DSP1A

K4-60DSP1A
Innovative Active Mobile Sound System K4-60DSP1A with 60 watts sine power, audio DSP1 system, 3 inputs with MIC-LINE selector switches and 2 presets for mobile or fixed installations.

With the newly developed mobile active speaker system K4-60DSP1A with audio DSP you redesign the sound for your acoustic event.

The compact system (device height: only 83 cm) can be used anywhere for mobile or permanent installation, where music reproduction and speech intelligibility require an acoustically professionally designed result.

Experience "close-up" communication when the sound hits the listener through perfect spatial equalization using 15x PEQ filters:

The result is a more direct sound and less reflected sound energy - the classic "recipe" for excellent, acoustic results.

All 3 available inputs can be switched between MIC and LINE sensitivity by means of DIP selector switches.


Each of the 3 inputs also has
switchable phantom power and an HPF filter (100Hz)
.
The following components also provide perfect signal processing:
delay, two feedback systems digital automatic and digital phase shifter system, two presets, three mic line inputs with switchable phantom power and HPF filter, LO / HI input channel filter, PRE / POST output, Gain control per input channel
and much more.
The
built-in digital PWM power amplifier with 60 watts sine power
, along with the support of the audio DSP system, feeds the
3.5" neodymium chassis
and RF drivers built into the aluminum column. 
The
numerous adjustment possibilities
of the system ensure an even
more precise spatial equalization and the exact adaptation to the room acoustics
, e.g. at a professional sound reinforcement in churches, at press conferences, in auditoriums, lecture halls, etc.
Learn more about K4-60DSP1A in our NEWS >>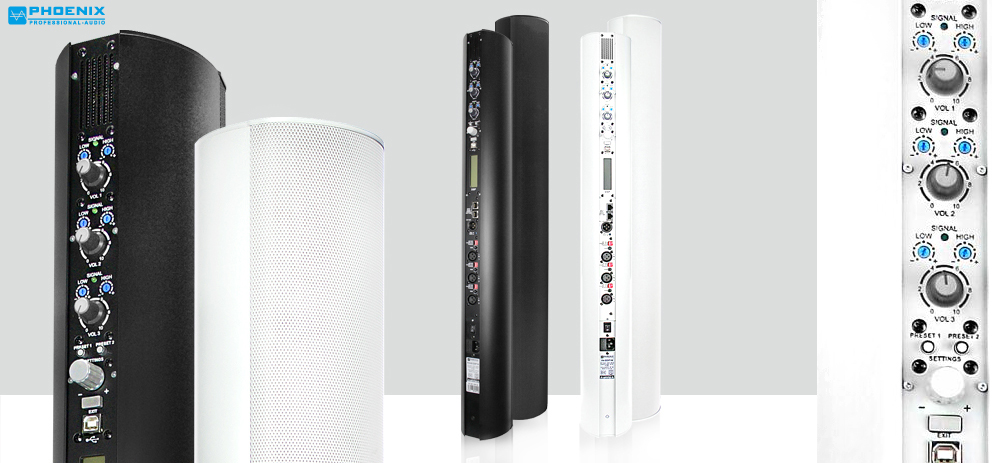 Specials
3 inputs on XLR (MIK.-LINE by DIP selector switch)
3 x input GAIN control
3 x input LF / HF EQ
15 Band Input Parametric EQ with 5 parametric filters: 1. PEAKING EQ, 2. LoSh6, 3. LoSh12, 4. HiSh6, 5. HiSh12
2 PRESETS
Feedback limiter "Phase Shifter" or "Adaptability-Automatic"
Delay
Digital NOISE-GATE & LIMITER (Software)
REMOTE interface f. cable remote control
Manual switching between presets
RJ 45 MASTER LINK (IN / OUT)
PRE-MASTER output before PEQ and MASTER (balanced to XLR)
POST MASTER output DSP (balanced to XLR)
Phantom power 24VDC
USB interface; LC display
Software MWL-CONTROL 1.1.1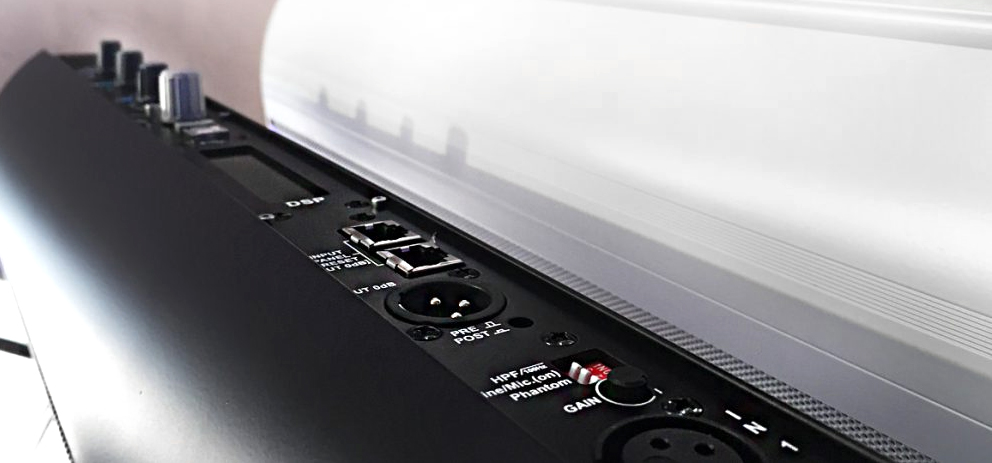 Fig.: Application example
---

Technical Details
 

| | |
| --- | --- |
| Ambient temperature | -5 to + 40C |
| Assembly | 6 x 3.5" chassis (ferryt) for range LF / MF, 2 x HF spherical cap systems (neodymium) |
| Audio input | 3 x mic. Line, (-40 dB to -15 dB), 1.6 kOhm or LINE (-15 dB to +5 dB) |
| Audio output | POST MASTER, PRE-MASTER |
| Beam angle (H) | 120 degrees (-6dB @ 1kHz-8kHz) |
| Beam angle (V) | 30 degrees |
| Colour | black |
| Delay (system) | up to 170 meters |
| Dimension | B - 103 x H- 830 x D-113 (mm) |
| DSP Control | multifunctional graphic display |
| DSP version | DSP 1 |
| Equalization Parametric EQ | 20-20kHz / -20 + 12dB / 0.05-3db (oct) |
| Equalization Parametric EQ @ input | 15 Band Input Parametric EQ with 5 parametric filters: 1.Peak 2. LoSh6 3. LoSh12 4. HiSh6 5. HiSh12 |
| Feedback limiter | Automatic feedback suppressor in the range 20 Hz to 20 kHz or digital frequency shifter (Freq. Shift 1.7 Hz, 2 Hz, 3 Hz.) |
| Frequency response | 90 Hz to 20,000 Hz @ -3dB |
| Gain (entrance) | digital in the DSP core, analog per audio input |
| HPF filters | switchable to each input (channels 1 to 3), DIP-3 |
| Input sensitivity (LINE) | LINE @ DIP position -15 dB / + 5 dB |
| Input sensitivity (MIK.) | MIC @ DIP position -40 dB / -15 dB |
| Interface | USB master (PC), RJ-45 remote control |
| Limiter (system) | Limiter (-24 dB to +6 dB) |
| Limiter: SLOW / NORMAL / FAST | Yes |
| Mass | 5.5 kg |
| Noise Gate [LEVEL / ATTACK / RELAY] | -90dB / -3dB (300us-5000US) (1 ms 3000ms) |
| Password protection | in the device configurator |
| PEQ filter (output) | PEAKING EQ, LoSH6, LoSH12, HiSH6, HiSH12 |
| Phantom power | switchable 24VDC (DIP-switch) |
| Power supply | 230VAC / 50Hz / 60Hz |
| Presets | Preset-1, Preset-2 with plain text |
| Protection circuits | On-delay, current limit (short circuit), over-temperature protection, inductive load, limiter |
| Range @ SPL / 92dB [PINK NOISE] | 12 meters |
| Signal to Noise Ratio | Can be set in the device configurator @ NOISE GATE / ON |
| Sound adjuster inputs | LOW 100Hz, HIGH 10kHz, + -12dB (Q-Filter) |
| system performance | 60 watts sinus |
| System software | Yes |
| THD | below 0.1% |
---