K4-80F

K4-80F 
The professional directional passive sound columns K4-80F are specially designed for sound transmission in acoustically difficult rooms with long reverberation times, such as churches, conference rooms, museums, cathedrals and halls and for all rooms with unfavorable acoustic conditions.

The sound columns with 80W/100V power are equipped with 3.5" neodymium chassis and have a length of 1020 mm. 

NOW MORE COMPACT: With the new models, the housing width has been reduced from 103.5 mm to a slim 95 mm.

By using internal passive crossovers, the model K4-80F achieves an opening angle in the vertical plane of 20 degrees. The opening angle [H/V] is 120 x 25 degrees@(6dB@1kHz-8kHz).

The newly developed K4 sound columns are a combination of high-efficiency neodymium high-frequency spherical cap systems in the RF frequency range with high sound pressure and specially spaced 3.5" ferrite broadband chassis in the LF/MF frequency range.

The frequency-independent directional sound radiation is limited only to the listener area and provides the highest acoustic natural speech reproduction.

The even volume and excellent speech intelligibility in the entire sound reinforcement are just a few advantages of the sound columns. Specifically directed sound radiation in the vertical plane causes an increased directivity and a broader frequency response.


The housing made of specially shaped aluminum profile is particularly stable and elegant in design, adapts perfectly to any environment
.
Thanks to mounting brackets mounting the sound columns is easy.

The speaker systems are characterized by their very natural and balanced sound quality. In combination with the Phoenix Subwoofers DAS-1000A and SUB-2x8 the K4 sound columns not only provide excellent speech intelligibility but also perfect music transmission with great bass reproduction. 

Color (standard): white, RAL 9016.

The product can be powder-coated on customer request to RAL color samples. 


IMPORTANT:

The K4 series sound columns from model K4-40 (N) or (F) version should be installed in accordance with the installation plan (please note the mounting height).

Please refer to the technical data for the typical range and equipment of the K4 line emitters.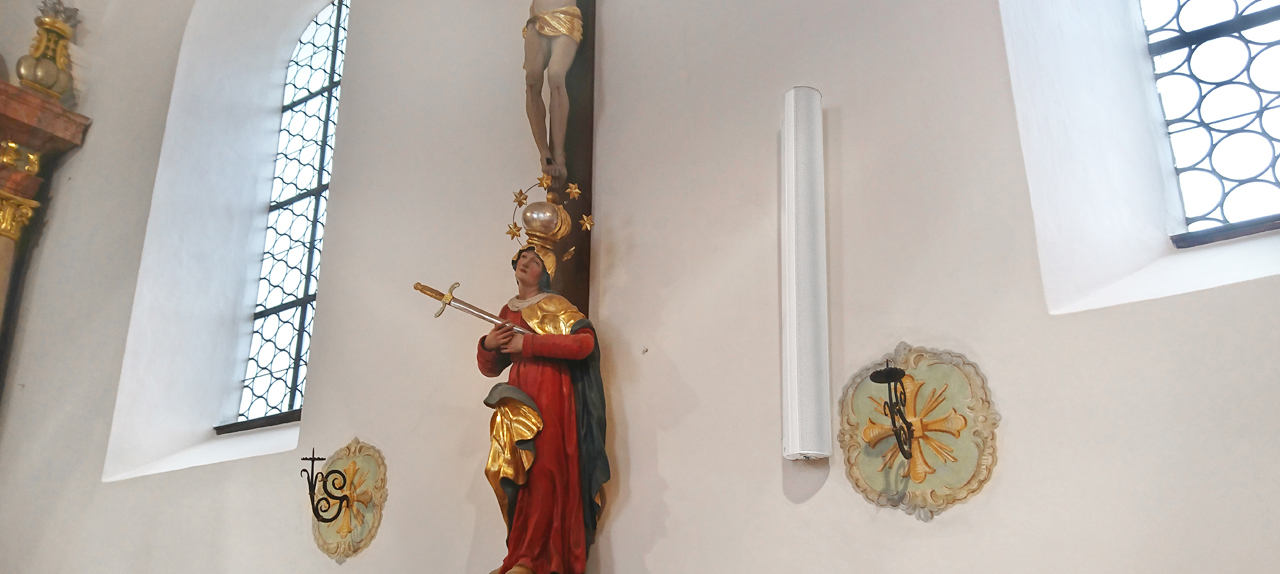 Fig.: Application example with K4-80 sound columns

Specials
Very good speech intelligibility

Color (standard): white, RAL 9016

Listening pleasure through homogeneous dispersion of the speakers

Constant directional characteristic

Housing with feedback damping

Shapely design

NEW: Housing width of only 95 mm! 

High sound pressure

Special RAL powder coating

80 W / 100V power

Equipped with: 8 x 3.5" [ferrite chassis] LF/MF + 

NEW:

2 x HF neodymium spherical cap system
Range: (

95 dB@12 Meter

), (92 dB@15 Meter) (PINK NOISE)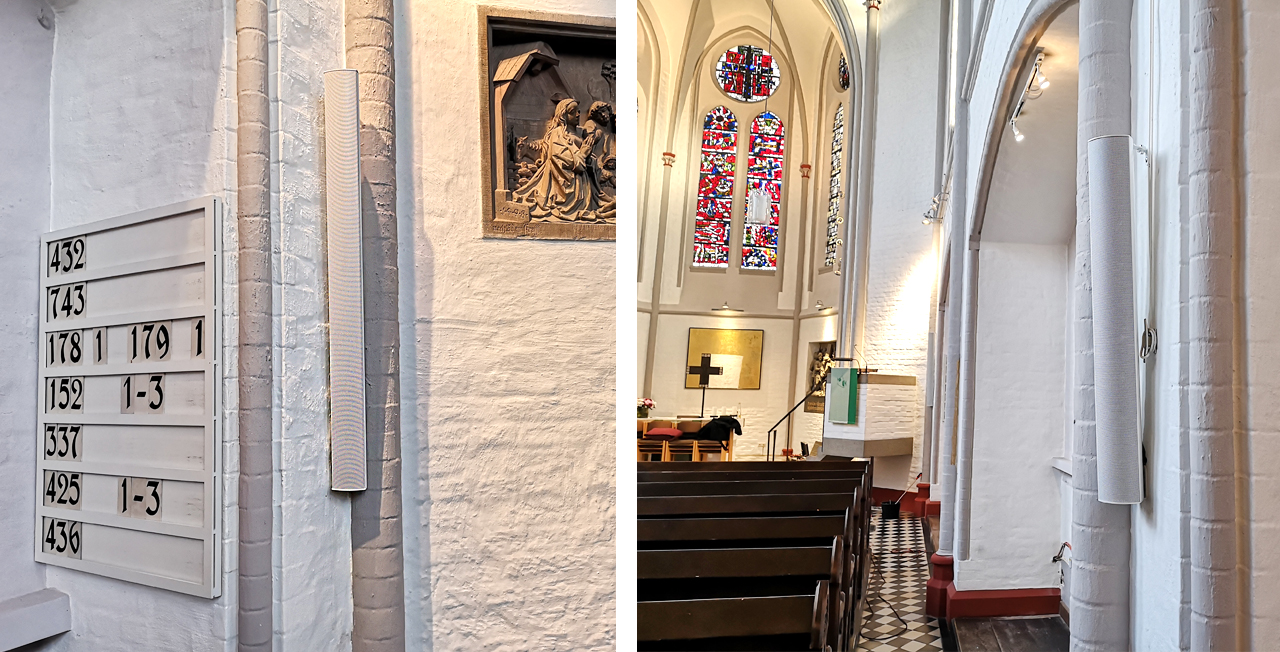 Fig.: Application example - church sound reinforcement with K4-80 and K4-60 sound columns.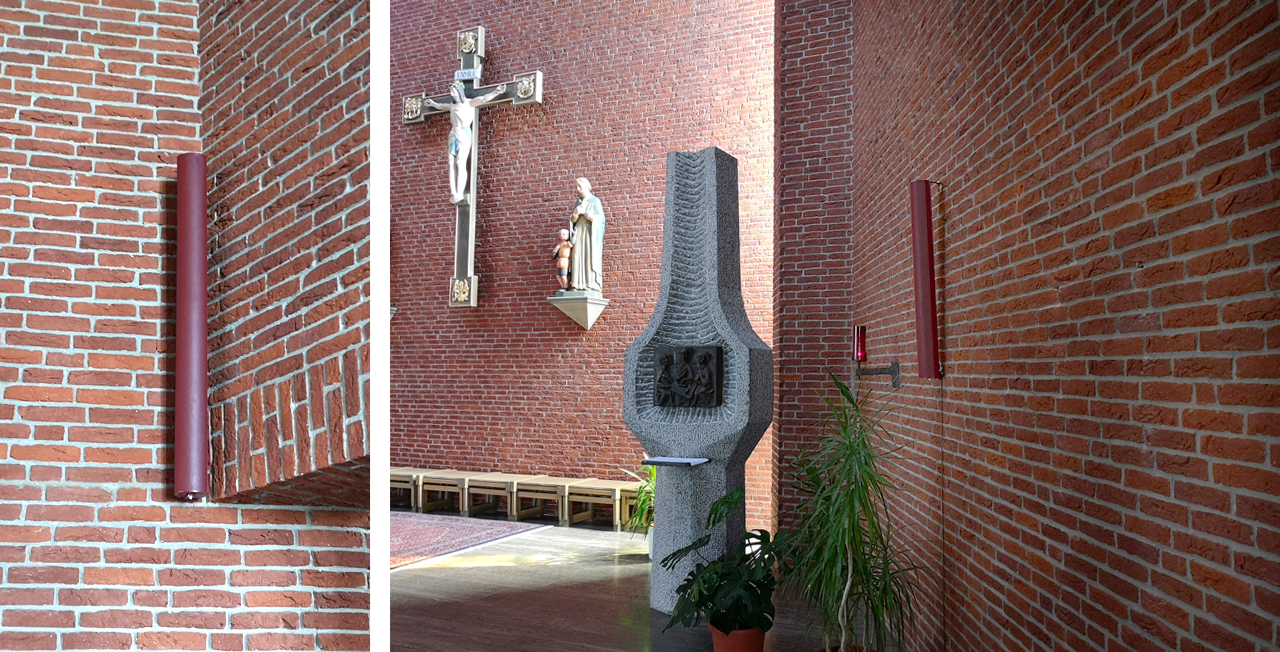 Fig.: K4 sound columns in RAL special color. Custom-made powder coating possible on request.
---

Technical Details
 

| | |
| --- | --- |
| Assembly HF | 3 x HF neodymium spherical cap system |
| Attachment | Including mounting bracket |
| Audio transformer | 100V |
| Beam angle (H) | 120 degrees (-6dB, 1kHz-8kHz) |
| Beam angle (V) | 25 degrees |
| Colour | Standard: RAL 9016, on customer request RAL special powder coating possible |
| Dimension L / W / D [mm] | 1020/95/113 |
| Equipment LF / MF | 8 x 3.5" [ferrit chassis] |
| Frequency response | 120 Hz - 18,000 Hz (-3dB) |
| Input impedance @ 1/1 | 80W/125 ohms |
| Input impedance @ 1/2 | 40W/250 ohms |
| Input impedance @ 1/4 | 20W/500 ohms |
| Mass | 11 kg |
| Material | Aluminum powder coated |
| Output | 80W / 100V |
| Sound pressure at SPL max. (PINK NOISE) IEC 60268-1 | (95 dB@12 meters), (92 dB@15 meters) |
| SPL / 1W / 1mtr | 96 dB |
| SPL (max) | 115 dB |
---