MEGZ-R-5 Si

MEGZ-R-5 Si 
The slim portable
MEGZ-R-5 Si
design microphone stand system 
consists of a 12 mm thin and 120 cm long standpipe, which opens at the top end into a gooseneck of only 6 mm, which carries an electret condenser microphone.

Version with adapter for radio transmitter TA-80 (sold separately).

When using the plug-on transmitter TA-80, the floor stand is compatible with the receivers of the ACT-800 digital wireless system (ACT-818, ACT-828 and ACT-848).

Floor standing base version with electret condenser microphone capsule (hypercardioid), 5 m microphone cable and XLR plug.

Length gooseneck microphone: 500 mm. Color: silver matt (si).

In the newly developed metal housing of the electret condenser microphone, a filter for effective suppression of pop noises is integrated. The hypercardioid microphone capsule ensures that an acoustically high-quality speech signal is recorded even with a larger speaking distance and in a reverberant environment.

The microphone with a transmission range of 30 Hz to 18 kHz has an extremely straight-line frequency response and a very good reverse attenuation.


The power (phantom power) is supplied via microphone line and fed from the amplifier with 20 - 52 VDC.

By a flexible spring coupling, the microphone capsule is connected to the approximately 50 cm long gooseneck. The only 6 mm thin gooseneck itself is firmly connected with the main guide pipe by a flexible, but very stable spring coupling
.
Thanks to its
filigree design
, the microphone stand system almost merges with the surroundings at a short distance, so that it is
barely visible in appearance
.
Standpipe and microphone are
powder coated in silver matt (si) color
. 
FURTHER MODELS:

As version MEGZ-GS

,

t
he design microphone stand system is also available with bottom flange and XLR connection (instead of floor standing base).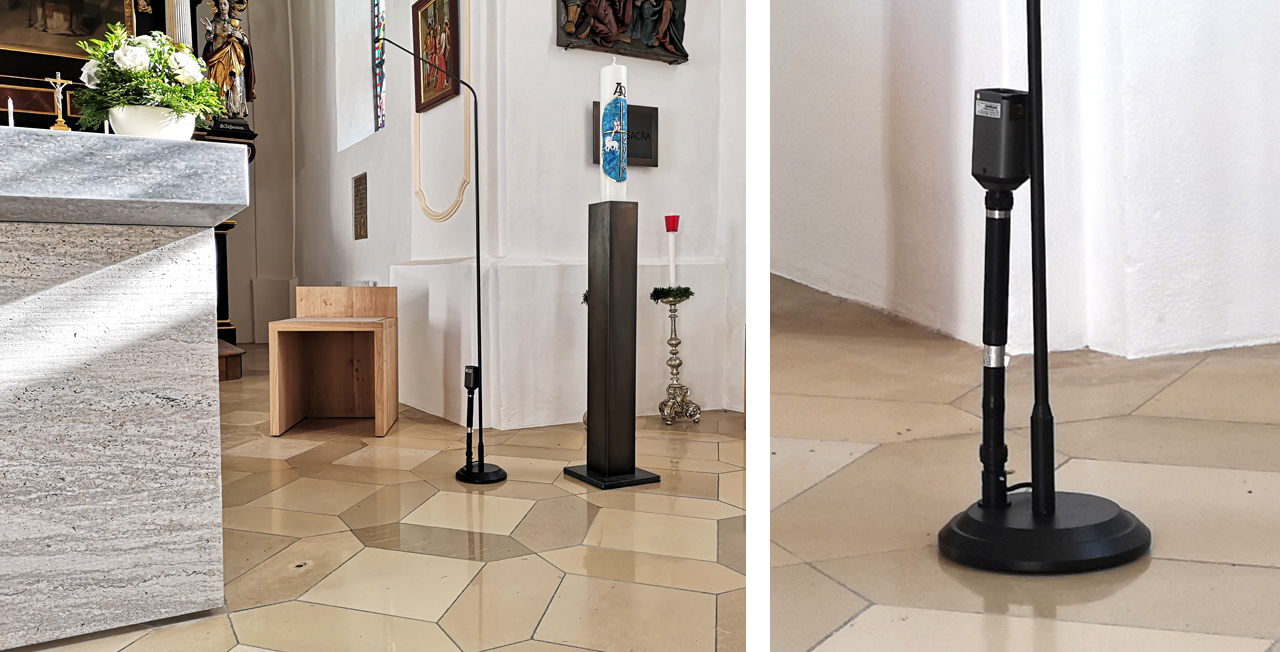 Fig.: Application example MEGZ-R-5 S. Radio transmitter TA-80 sold separately.

Specials
Elegant microphone stand system with elecrete condenser microphone (hypercardioid)
Version with adapter for use of radio transmitter TA-80 (sold separately)
When using radio transmitter TA-80, the tripod is compatible with the receivers of the digital wireless system ACT-800  
Version with floor standing base
Color: silver matt (si)
Length gooseneck microphone: 500 mm
Very noble design
Filigree appearance: 12 mm thin and 120 cm long standpipe with 6 mm thin gooseneck
Filter for effective suppression of pop noises
Extremely straight-line frequency response
Very good reverse damping
Phantom power
Very stable flexible spring clutch
Modern design
High quality powder coating
---

Technical Details
 

| | |
| --- | --- |
| Colour | Silver-matt |
| Connection | Balanced microphone cable with XLR connector (XLR-MALE) |
| Diameter | Main guide tube: 12 mm / head: 16 mm / gooseneck: 6 mm |
| Directivity | Hypercardiod |
| Field transmission factor (S / N) | 16 mV @ S / N: 66 dB |
| Frequency response | 30 Hz - 18,000 Hz |
| Length | Total: 1760 mm / main guide tube: 1200 mm / gooseneck: 500 mm |
| Max dynamics | 120 dB max. @ 0.5% THD (SPL) |
| Phantom power | 20V to 52VDC |
| Rated impedance | 200 ohms, symmetrical |
| Version  | with adapter for use of radio transmitter TA-80 (sold separately) |
| Weight  | approx. 5 kg |
This might interest you too